The emblem of the seaside resort
Situated between Villers and Houlgate, the Vaches Noires cliffs are an archaeological heritage of great scientific repute. The main discoveries are the fossils of 10 m-long pliosaur, an ichthyosaur, a saltwater crocodile, but also ammonites, urchins and sponges.
The green dinosaur
To promote this exclusive heritage, a giant plant dinosaur was placed at the heart of the town, in the gardens situated in front of the tourist office. Throughout the years, it has become the emblem of the seaside resort.
The dinosaur in a few figures:
12 m-long
7 m-high
is made of an iron structure filled with 6 tons of soil
9,000 plants
7,000 green pyrethrin for the upper body
2,000 alternantheras or rubras for the lower body
It is placed in June, to let the plants grow enough, and removed in November by the gardens department of the municipality. Every year, when it comes back, an eagerly awaited event is organized to celebrate the beginning of summer!
On top of that, daddy dinosaur has recently been accompanied by his son.
A real landmark in the seaside resort, it is often the protagonist of the photos of visitors, who just love it.
The iron dinosaur
A steel sculpture made by artist Patrice Mesnier representing a tyrannosaur is installed in front of the Paléospace. This 4.8 m-high sculpture was exhibited at the Muséum national d'histoire naturelle (Paris) shortly after its creation and was also shown at the Grand marché de l'art à la Bastille (Paris).
It was also rented for the shooting of Fidelity by Zulawski, in which it appeared next to the Rhinoceros by Dalí.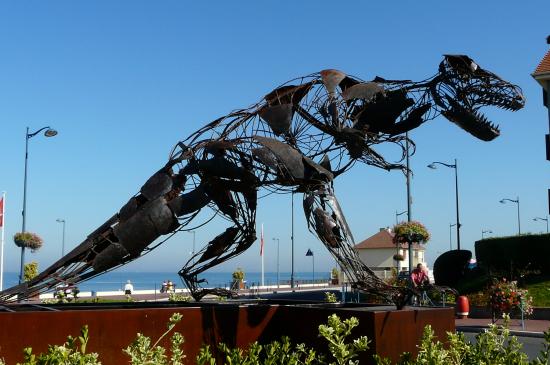 Interesting readings